2 April 2017
The third day I drove down the south coast to Vík í Mýrdal, with several stops.
But before I go, I will visit Hallgrímskirkja.
Hallgrímskirkja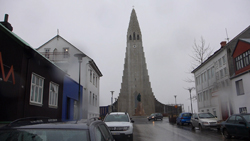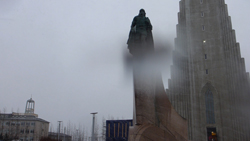 Hallgrímskirkja - or «church of Hallgrimur» is named after the Icelandic poet and clergyman Hallgrímur Pétursson. It's the biggest church in Iceland, built in the period 1937 – 1986, and is 74.5 meters (244 ft) high.
In front of the church is the statue of the explorer Leiv Eiriksson, who discovered America around 1000 AD. The statue is a gift from the US on the 1000 year jubilee of the Althing i 1930.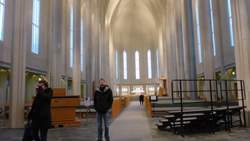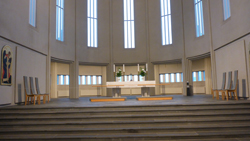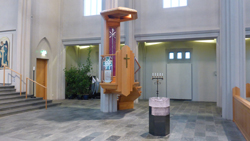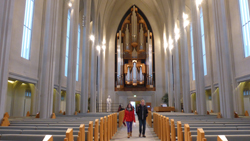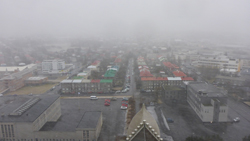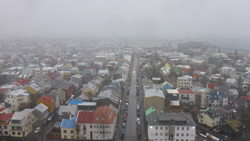 Hellisheiði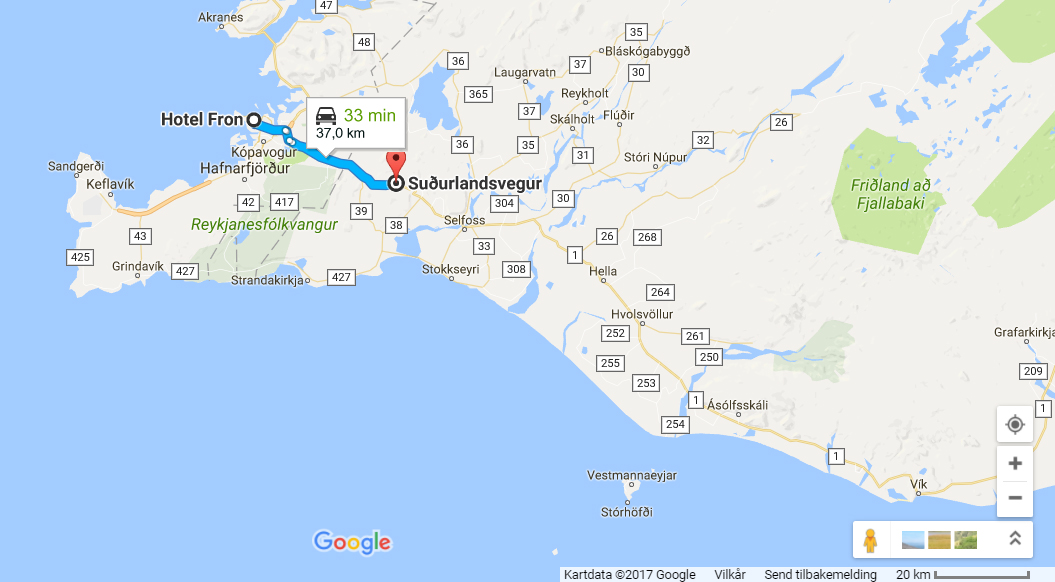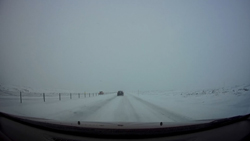 Here, I am crossing Hellisheiði, a lava plateau, about 380 meters (1245 feet) above sea level.
Hveragerði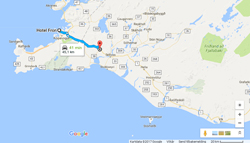 Hveragerði: A powerful earthquake (6.3 on the Richter scale) struck the southern part of Iceland on 29 May 2008. The epicentre og the quake was about 2 km (1.2 miles) southeast of Hveragerði. The earthquake was widely felt across Iceland. Several buildings were damages.
Population: about 2300.
Selfoss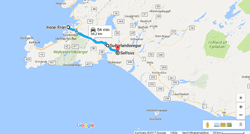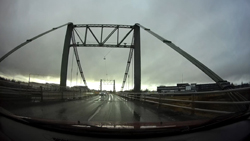 Selfoss. In 1900 Selfoss was the home for 40 people. Today: 6500 inhabitants. And is the largest residential area in South Iceland.
The first bridge across the river Ölfusá was built in 1891. This bridge is from 1945.
Hella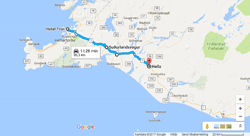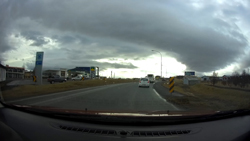 Hella. The town Hella was founded in 1927 by Þorsteinn Björnsson who built a store by the bridge Ytri-Rangá.
Today: around 800 inhabitants
Seljalandsfoss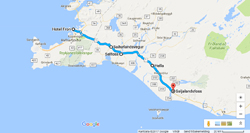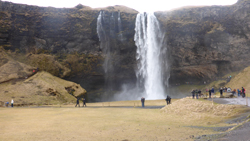 Seljalandsfoss: One of the best known waterfalls in Iceland. 60 meters (197 ft) high.
Eyafjallajökull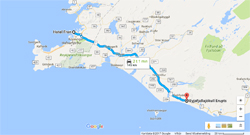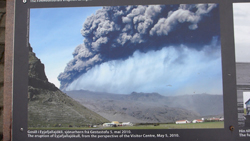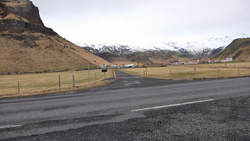 The volcano Eyajafjallajökull has erupted 4 times since the first settlers in Iceland; in 920, 1612 – 1613, 1821 – 1823 and in 2010. By the end of December 2009 seismic activity was registered around the Eyafjallajökull volcano, with thousands of small earchquakes. By 26th February GPS-readings from the metheorologic institute placed in the Eyafjöll area (around 15 km / just under 1 mile) southeast of the eruption) showed that the earth crust in the area had shifted 3 cm (1.2 inches) southwards.
The seismic activity continued to rise, and close to 3000 earthquakes by the volcano epicentre were registered between 3rd March og 5th March. Eyafjallajökull erupted from 1821 to 1823, and was inactive until 20th March 2010. A later eruption that started on 14th April 2010 resulted in major emissions of volcanic ashes. Around 20 countries closed their airspace.
The eruption stopped on 21st May 2010. This is an information center, but it's too early for the season.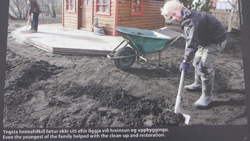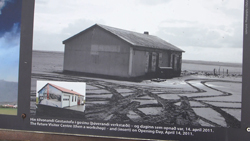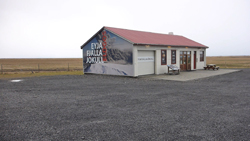 Skógafoss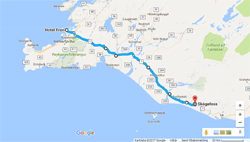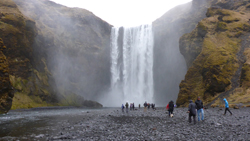 The waterfall Skógafóss is a part of the river Skógá. The waterfall is 25 m (82 feet) wide, and has a drop of 60 m (200 feet). It has been protected since 1987. According to legend, the first Viking settler in the area, Þrasi Þórólfsson, buried a treasure in a cave behind the waterfall.
It is possible to walk to the top.
Reynisfjara
Watch film from Reynisfjara here!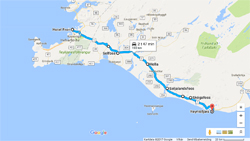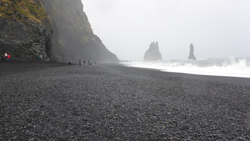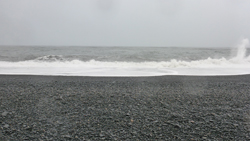 Reynisfjara, named after Reynir, a Landnámsmaður from Valdres in Norway. The word landnám comes from old norse, and means to take land, a settler. So Reynir was one of the first settlers in this area.
This beach is called «black sand beach», and was in 1991 ranked as one of ten most beautiful non-tropical beaches in the world!
Those sea stacks are called Reynisdrangar, that are up to 66 meters (217 feet) high. The legend says that the stacks originated when two trolls dragged a three-masted ship to land unsuccessfully. They turned to rock at dawn.
Watch film from Reynisfjara here!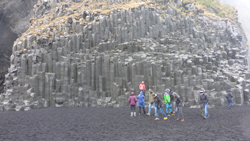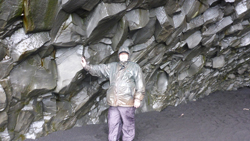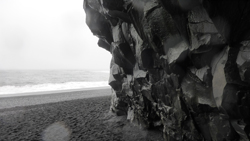 Vík í Mýrdal
Watch film from Vík í Mýrdal here!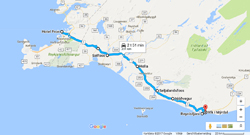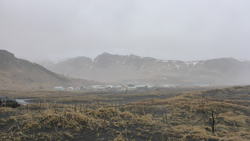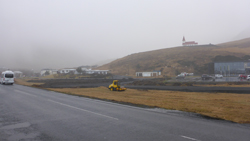 The southernmost village in Iceland; Vík í Mýrdal with around 300 inhabitants, lies directly south of the Mýrdalsjökull glacier, which itself is on top of the Katla volcano. Katla is not only active, it is way over time for an eruption. An eruption of Katla could melt enough ice to trigger an enormous flash flood, potentially large enough to obliterate the entire town. The town's church, located high on a hill, is believed to be the only building that would survive such a flood. Thus, the people of Vík practice periodic drills and are trained to rush to the church at the first sign of an eruption.
During the eruption of Eyafjallajökull in March 2010, the Icelandic geo physicist Pall Einarsson was worried that a secondary eruption would happen from Katla. After the previous eruptions from Eyafjallajökull, latest in 1823, Katla has erupted shortly after. Other geo physicists believed there was no danger for an eruption the same day, but may happen in a week, a year, if at all! It's now been 7 years.
By the way, Vík í Mýrdal is the warmest place in Iceland with an annual average temperature of 5.3 °C (41.5 °F).
It must be somewhat special to live here below Katla, which is way over time for an eruption. One thing is just about 100% sure: Katla will erupt. The big question is: will the eruption be big enough to melt the glacier to flood and obliterate Vík í Mýrdal? Where I am now standing, is believed to be the only safe place. It's strange to think about.
Watch film from Vík í Mýrdal here!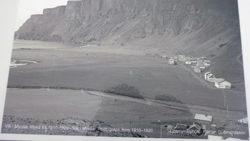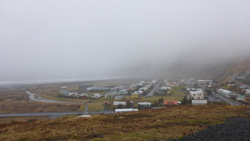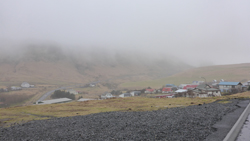 Roads in Iceland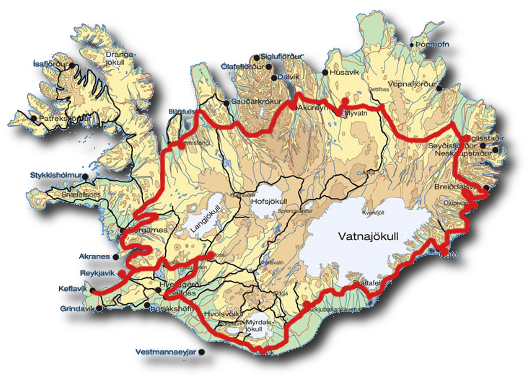 A few words about the roads in Iceland.
Iceland has a high level of car ownership per capita; with a car for every 1.3 inhabitants; it is the main form of transport. Iceland has 13,034 km (8,099 mi) of administered roads, of which 4,617 km (2,869 mi) are paved and 8,338 km (5,181 mi) are not. Gravel roads are mostly little-used rural roads. The road speed limits are 50 km/h (31 mph) in towns, 80 km/h (50 mph) on roads and 90 km/h (56 mph) on hard-surfaced roads.
The road around the island is road number 1, and is called Þjóðvegur 1, which means national road 1. It is also called Hringvegur (the Ring Road), runs around the country, and was completed in 1974. It is 1,337 km (828 mi) long with one lane in each direction, except near larger towns and cities, where it in some places has several lanes in each direction. It is also wider in the Hvalfjörður Tunnel. Many bridges on it, especially in the north and east, are single lane and made of timber and/or steel.
Reykjavík
Reykjavík is the capital of Iceland, with around 122000 inhabitants, well over 60% of the 306000 people in the country. Iceland is a young nation, and Reykjavik's growth started as late as 1944, when it was declared capital. The Norwegian Ingolf Arnason from Rivedal in Sunnfjord in the county of Sogn og Fjordane is believed to be the first permanent norse settler, south of Reykjavik, in 874, but later moved to a place he called Reykjavik (literally "Steam Bay") because of the large amount of steam that rose from the nearby hot-springs. Yes, Ingolf Arnason gave the name to Reykjavik! In 1801 there were 600 inhabitants in Reykjavik, in 1901: 6321, in 2000: 110852 and in 2015: 121822.